Heather Brown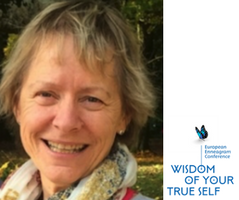 Heather Brown in 100 words
Heather trained with Helen Palmer and David Daniels. Heather qualified in 2004 as a Narrative Tradition teacher. Heather has run numerous Enneagram workshops, both separately and together with Rosemary Cowan. Both Heather and Rosemary are core faculty teachers for the Enneagram Europe Foundation Programme.
Braiding the centres - accessing wisdom - Soul Experiencing
We know that the Holy Ideas and Virtues cannot be practised – we need to open our heart in order to receive them. We find this challenging because our type mechanism has become anchored in our body. The Path to Integration described by Terry Saracino shows how accessing all our centres of intelligence together can help us come fully into the present moment and become more receptive. This can open up our way forward much more effectively than focusing on one centre alone. This highly practical workshop integrates bodywork and receptivity practices to help us access the wisdom of our true self. It includes a first aid kit to help us stay present to our deepest and most challenging emotions and abreactions, so that we can experience receptivity with equanimity and joy. We will use attention practices with acupressure and grounding techniques based on Chinese medicine practices. We will then integrate the bodywork into heart-based receptive practices such as Chanting, Mindfulness and Loving Kindness meditation. Participants will leave with plenty of practical ideas that they can adapt to their own practice.